If you're in the market for a utility terrain vehicle (UTV), the Axis 500 UTV may have caught your attention. But before making any purchase, it's important to do your research and understand the pros and cons of this particular model. That's where our Axis 500 UTV reviews come in.
This comprehensive review will provide an unbiased analysis of the Axis 500 UTV, covering everything from its performance and handling to its features and overall value. We'll take a closer look at its engine power, suspension, seating capacity, and cargo space, as well as any notable drawbacks or issues to be aware of.
Our goal is to provide you with all the information you need to make an informed decision about whether the Axis 500 UTV is the right fit for you. So, whether you're a farmer, rancher, hunter, or outdoor enthusiast, keep reading for our Axis 500 4×4 UTV reviews.
AXIS 500 UTV Specs & Features:
Specification 

Engine

Engine
471cc, 4-stroke, liquid-cooled, single cylinder
Power
24 horsepower
Transmission
Automatic CVT with H-L-N-R-P
Drive System
2WD/4WD with locking differential
Suspension
Front: Dual A-Arm with 9.5″ travel

Rear: Dual A-Arm with 10.5″

Brakes
Front and rear hydraulic disc brakes
Tires
Front: AT 25×8-12

Rear: AT 25×10-12

Dimensions
105.2″ (L) x 53.5″ (W) x 73.8″ (H)
Ground Clearance
10.2″
Fuel Capacity
7.6 gallons
Payload Capacity
500 lbs
Towing Capacity
1200 lbs
Seating Capacity
2
Carburetion System
Electronic Fuel Injected (EFI)
Cooling
Liquid
Warranty
2 year limited
AXIS 500 4×4 UTV Features:
The Axis 500 UTV is a powerful utility vehicle designed for off-road use. Here are some of its key features:
The AXIS 500 UTV is a versatile vehicle that comes equipped with a range of impressive features.  These features work together to make the AXIS 500 UTV a reliable and powerful off-road vehicle that can handle a wide range of terrains and tasks.
1. Heavy-Duty Engine:
The heavy-duty engine of the AXIS 4×4 500 UTV is one of its most impressive features. It is a liquid-cooled, 4-stroke, single-cylinder engine that is capable of producing up to 471cc of power. This engine is designed to be highly reliable and efficient, providing smooth and consistent performance even in challenging conditions.
The heavy-duty engine of the AXIS 500 UTV is built to withstand the rigors of off-road use. It features a high-strength steel frame and heavy-duty components that are designed to stand up to rough terrain and heavy loads. With its impressive power and durability, the engine of the AXIS 500 UTV is capable of taking on any task with ease.
In addition to its power and reliability, the heavy-duty engine of the AXIS 500 UTV is also highly efficient. It is designed to provide excellent fuel economy, helping to reduce operating costs and minimize the vehicle's impact on the environment. Overall, the heavy-duty engine of the AXIS 500 UTV is a testament to the vehicle's outstanding performance and quality.
2. Dual-Arm Suspension:
The dual-arm suspension of the AXIS 500 UTV is another impressive feature that sets this vehicle apart from the competition. This suspension system is designed to provide a smooth and comfortable ride even on rough terrain. It features dual A-arm front suspension and a rear independent suspension system that work together to absorb shocks and bumps in the road.
The dual-arm suspension of the AXIS 500 UTV is highly versatile and adaptable to a range of different terrains. It can handle everything from rocky mountain trails to sandy desert dunes with ease. The suspension system is also adjustable, allowing drivers to customize the ride to their preferences and the conditions at hand.
In addition to its impressive performance on the trail, the dual-arm suspension of the AXIS 500 UTV is also highly durable and long-lasting. It is designed to withstand the wear and tear of off-road use, providing years of reliable performance. Overall, the dual arm suspension of the AXIS 500 UTV is a testament to the vehicle's exceptional design and engineering and is one of the key features that make this vehicle such a standout in its class.
3. Includes a Powerful Winch:
The 3rd feature of the AXIS 500 UTV is its powerful winch, which is a highly valuable asset for off-road enthusiasts. A winch is an essential tool for those who love to explore challenging terrains, as it can help you overcome obstacles and get unstuck from tricky situations. With the AXIS 500 UTV's winch, you can pull your vehicle out of mud, snow, sand, or any other tough terrain, making your off-road adventures safer and more enjoyable.
The AXIS 500 UTV's winch is capable of pulling an impressive amount of weight, making it useful for hauling heavy objects or even other vehicles out of difficult spots. The winch's power is controlled by a simple switch, making it easy to use even for beginners. Additionally, the winch is built to withstand the toughest conditions and is highly durable, ensuring that it will last you for years to come.
Overall, the AXIS 500 UTV's powerful winch is an excellent feature that sets it apart from other vehicles in its class. Whether you're an experienced off-roader or a beginner, this winch is sure to come in handy when you're out exploring the great outdoors.
4. Decent Bed Capacity
The next feature of the AXIS 4×4 500 UTV is its decent bed capacity, which makes it a highly versatile vehicle for both works and play. The bed of the UTV is spacious enough to carry a variety of items, including tools, supplies, and even small equipment. Whether you're using it for farming, hunting, or just hauling cargo, the AXIS 500 UTV's bed can handle it all.
The bed of the AXIS 500 UTV is also highly customizable, with a variety of accessories available to help you tailor it to your specific needs. You can add racks, toolboxes, and other storage solutions to make the most of the space available. Additionally, the bed's design makes it easy to load and unload items, and its high sides help to keep your cargo secure while you're on the move.
One of the most impressive aspects of the AXIS 500 UTV's bed is its durability. It's made from high-quality materials that are designed to withstand heavy use and extreme weather conditions. This means that you can rely on the bed to carry your cargo safely and securely, no matter what challenges you may encounter on the job or on the trail.
5. Outstanding towing capacity
The AXIS 500 UTV is designed to handle heavy loads with ease, thanks to its outstanding towing capacity. With a capacity to tow up to 1200 lbs, this UTV is perfect for farmers, ranchers, hunters, and anyone who needs to haul heavy equipment or materials. Whether you're towing a trailer, carrying a load of hay, or transporting a large game animal, the AXIS 500 UTV has the power and capability to get the job done.
6. Adequate Fuel Capacity
One of the most important features of any off-road vehicle is its fuel capacity, and the AXIS 500 UTV delivers in this regard. With AXIS 500 UTV, you don't have to worry about running out of gas in the middle of nowhere. It has a generous fuel capacity of 7.6 gallons, which allows it to travel up to 200 miles on a single tank.
This is ideal for long-distance trips or remote locations where fuel stations are hard to find. You can also save money and protect the environment with its low fuel consumption and emissions. AXIS 500 UTV is the ultimate choice for eco-friendly and economical driving.
In addition, the UTV's fuel injection system and efficient engine ensure that you get the most out of each gallon of fuel, making it a cost-effective choice for those who need to cover a lot of ground.
Another benefit of the AXIS 500 UTV's fuel system is its ease of use. The fuel tank is located in a convenient location, making it easy to access and refill when needed. The tank also features a fuel level indicator, so you can quickly and easily see how much fuel you have remaining.
7. Multi-gear Facilities
The AXIS 500 UTV is designed to handle a variety of terrain and conditions, thanks in part to its multi-gear facilities.It has a CVT transmission that automatically adjusts the gear ratio according to the driving conditions. Whether you need to accelerate, decelerate, or maintain a steady speed, AXIS 500 UTV can do it smoothly and efficiently.
8. Safety Features:
The Axis 500 UTV includes a variety of safety features such as hydraulic disc brakes, a parking brake, and a rollover protection system (ROPS) that meets OSHA and SAE standards.
9. Accessories and Add-ons:
There are a variety of accessories and add-ons available for the Axis 500 UTV, including a winch, snow plow, windshield, and roof. These can be added to customize the vehicle for specific uses and conditions.
Read Also: Icon Golf Cart Problems
Axis 500 UTV Top Speed: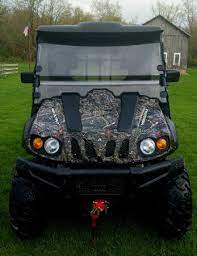 AXIS 500 UTV has a top speed of around 45 mph, which is impressive for its class and price range. Whether you need to zip through trails, fields, or roads, the AXIS 500 UTV can handle it with ease and efficiency. You can also enjoy the smooth and responsive acceleration and deceleration of its CVT transmission and hydraulic disc brakes. With the AXIS 500 UTV, you can experience the thrill of speed without compromising on performance or safety.
Axis 500 4×4 UTV Problems & Fixes:
AXIS 500 UTV is a popular choice among many outdoor enthusiasts and farmers who need a versatile and powerful vehicle for their work and leisure activities. However, like any other vehicle, the AXIS 500 UTV is not perfect and may have some problems that can affect its performance and durability. So we will discuss some of the most common AXIS 500 UTV problems and fixes that you should know before buying or using this UTV.
1. A bit Noisy
One of the most common problems that AXIS 500 UTV owners face is extreme engine noise. Especially when traveling long distances or in quiet areas, this can be annoying and distracting. This may happen as the machine gets older or several possible causes. Some of them are:
The Fix:
1.  Check the oil level and quality. Low or dirty oil can cause friction and wear in the engine parts, resulting in noise. Change the oil regularly and use the recommended type and grade for your UTV.
2. Check the air filter and intake system: Clogged or dirty air filter can reduce the airflow and performance of the engine, causing noise. Clean or replace the air filter as needed and make sure there are no leaks or obstructions in the intake system.
3. Check the exhaust system. Damaged or loose exhaust pipes, mufflers, or catalytic converters can cause noise and emissions problems. Inspect the exhaust system for cracks, holes, rust, or loose connections and repair or replace them as necessary.
Check the spark plugs and wires. Worn or faulty spark plugs or wires can cause misfires and noise in the engine. Replace the spark plugs and wires according to the manufacturer's specifications and schedule.
2. Uncomfortable Seat belt:
Another common problem that AXIS 500 UTV owners face is an uneasy seat belt. The seat belt is designed to provide safety and comfort for the driver and passengers, but sometimes it can be too tight too loose, or malfunctioning. Some of the possible causes and fixes for this problem are:
The Fix:
1.  Adjust the seat belt height and length. The seat belt should fit snugly across your chest and lap, without cutting into your neck or abdomen. You can adjust the height of the shoulder strap by moving the anchor point up or down on the pillar. You can also adjust the length of the lap belt by pulling or releasing the slack on the buckle side.
2.  Check the seat belt latch and buckle. The seat belt latch and buckle should click securely when fastened and release easily when pressed. If they are jammed, dirty, or damaged, they can cause problems with locking or unlocking the seat belt. Clean them with a cloth or a soft brush and lubricate them with a silicone spray if needed. If they are broken or worn out, replace them with new ones.
3. Not Good For Rugged Terrains:
A third common problem that AXIS 500 UTV owners face is that it is not an ideal choice for rugged terrains. The AXIS 500 UTV is designed to provide a smooth and comfortable ride on paved roads and trails, but it may struggle on rough or uneven surfaces.
Axis 500 UTV Price:
The AXIS 500 UTV is manufactured by HISUN Motors, a Chinese company that has been making quality vehicles for over 30 years. The AXIS 500 UTV is backed by a one-year limited warranty and is assembled in the USA.
The AXIS 500 UTV price ranges from $8,999 to $10,600, depending on the color and accessories you choose. You can get it in red, blue, or camo, and it comes with a roof and windshield as standard. However, prices can also be affected by factors such as availability, demand, and any promotions or discounts offered by dealerships. It's important to research and compare prices from multiple dealerships before making a purchase to ensure you get the best deal possible.
Axis 500 UTV Reviews:
The AXIS 500 UTV is a popular utility vehicle that's known for its reliability, performance, and versatility. Whether you're a farmer looking for a rugged and capable workhorse, or an off-road enthusiast in search of an adrenaline-pumping ride, the AXIS 500 UTV is sure to impress.
However, the UTV also has its share of problems and drawbacks that may affect its reliability and satisfaction. So we will present some of the customer's reviews about the AXIS 500 UTV, both positive and negative, to help you decide if this is the right UTV for you.
Here are two Positive customer reviews for the AXIS 500 UTV:
Review 1: "I recently purchased the AXIS 500 UTV and it has exceeded all of my expectations! The build quality is top-notch and the performance is impressive. The seats are comfortable and the interior is spacious enough to accommodate my family of four. I highly recommend the AXIS 500 UTV to anyone looking for a reliable and capable off-road vehicle.".
Review 2: "I've been using the AXIS 500 UTV for hunting and camping trips and it's been awesome. It has plenty of room for me and my gear, and it can tow my trailer with ease. The engine is quiet and fuel-efficient, the tires are durable and grippy, and the brakes are responsive and safe."
Conclusion for AXIS 500 4×4 UTV :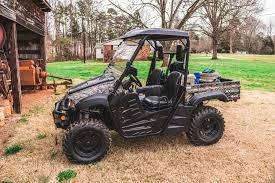 The AXIS 500 UTV is a powerful off-road vehicle that offers great value for its price. With its reliable 471 cc engine and a 4-wheel drive system, this UTV can handle tough terrain with ease. The vehicle also has a spacious and comfortable cabin, making it perfect for long off-road trips. Additionally, the AXIS 500 UTV comes equipped with safety features such as seat belts, a roll cage, and hydraulic disc brakes.
As with any UTV, it also has some drawbacks and issues that may affect its performance and reliability. Overall, this UTV is a great investment for anyone looking for adventure in the great outdoors.
So if you're ready to take your off-road adventures to the next level, be sure to check out our AXIS 500 UTV review video. You won't be disappointed!