When it comes to off-roading and exploring the great outdoors, an ATV can be your perfect companion. But with so many ATV brands available on the market, it can be overwhelming to choose the best one. In this post, we'll be discussing the best American ATV brands that offer high-quality performance, durability, and excellent value for money.
American ATV brands have been dominating the market for many years, and they have proven themselves to be reliable and trustworthy. We have extensively researched and compiled a list of the top American ATV brands to help you make an informed decision. Whether you are a professional rider or a beginner, we have got you covered.
If you are interested in exploring more ATV brands, we have also covered Chinese ATV brands, Japanese ATV brands, and Canadian ATV brands. These articles will provide you with additional information and help you compare and contrast different ATV brands. So, without further ado, let's dive into the world of American ATV brands and find the perfect one for you.
The Best American ATV Brands :
As we know that there are only a few of the best American ATV brands available on the market. Each brand has its unique features and capabilities, so it's important to consider your needs and preferences before making a purchase.
Here is a list of the Best American ATV Brands:
1. Arctic Cat
2. Polaris
3. Odes
1. Arctic Cat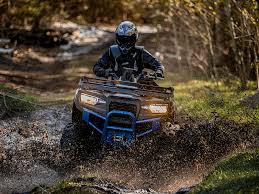 Arctic Cat is a well-known American brand in the world of ATVs (all-terrain vehicles). Founded in 1960 by Edgar Hetteen . This American company has been manufacturing a wide range of snowmobiles, side-by-sides, and ATVs for over six decades.
Arctic Cat started as a small snowmobile company in Thief River Falls, Minnesota. In the early 1980s, they expanded their product line to include ATVs. Today, they produce a variety of ATV models suitable for different types of terrains.
The main product lines of Arctic Cat ATVs include utility ATVs, sport ATVs, and youth ATVs. The utility ATVs are designed for heavy-duty work, such as hauling and towing, while the sport ATVs are geared towards high-performance off-road riding. The youth ATVs are smaller and designed for kids and young riders.
One of the most popular Arctic Cat ATVs is the Alterra 700, which comes in both standard and XT versions. The Alterra 700 features a 695cc engine, electronic fuel injection, and independent suspension for a smooth ride. Another popular model is the Alterra 570, which is known for its value and versatility.
For those looking for a high-performance ATV, the Arctic Cat Thundercat 1000 is a top-of-the-line model. With a 951cc engine, Fox Podium shocks, and electronic power steering, the Thundercat 1000 is designed for extreme off-road adventures…
Arctic Cat also offers a range of accessories and gear to go with their ATVs, including plows, winches, and helmets.
In 2017, Arctic Cat was acquired by Textron Inc., a large American corporation that produces a variety of products including military and commercial aircraft, helicopters, and weapons. The acquisition has allowed Arctic Cat to continue with its old name and expand its product line.
Top Arctic Cat ATV'S Models:
1. Arctic Cat Alterra 600 XT
2. Arctic Cat Alterra TRV 700 EPS
3. Arctic Cat Alterra 300
4. Arctic Cat Alterra 600 EPS
Arctic Cat ATV Cost:
For those considering the purchase of an Arctic Cat ATV, it's important to note that the cost of the vehicle will vary based on factors such as the model, features, and intended use. The price range for an Arctic Cat ATV typically falls between $3,359 to $10,699.
2. Polaris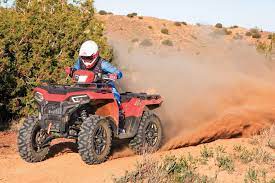 Polaris is a well-known American company that specializes in manufacturing all-terrain vehicles (ATVs), snowmobiles, motorcycles, and other power sports equipment. Among their product line, the Polaris ATV brand stands out as one of the most popular and reliable in the market.
Polaris ATV Brands offers a wide range of models that are designed for different use of purposes, from recreational riding to heavy-duty work. Their main production includes sport ATVs, utility ATVs, and youth ATVs. Let's take a closer look at some of their top models.
One of the most popular Polaris ATV models is the Sportsman XP 1000, a utility ATV that combines power, agility, and versatility. This ATV features a 952cc ProStar engine, electronic power steering, on-demand all-wheel drive, and a towing capacity of up to 1,500 pounds. The Sportsman XP 1000 is perfect for those who need a reliable machine for work or play.
Another top Polaris ATV model is the RZR XP Turbo S, a high-performance sport ATV that is built for extreme off-road adventures. This ATV features a 925cc ProStar Turbo H.O. engine, a reinforced chassis, 32-inch tires, and a suspension system that provides up to 25 inches of travel. The RZR XP Turbo S is designed for adrenaline junkies who want to push the limits of what an ATV can do.
For those who are just starting out, Polaris ATV Brands offers youth models such as the Outlaw 110 and the Phoenix 200. These ATVs are designed for riders aged 10 and up and are built with safety features such as speed limiting and adjustable throttle control. The Outlaw 110 and Phoenix 200 are perfect for young riders who want to develop their skills and have fun on the trails.
Top Polaris ATV'S Models:
1. Polaris Sportsman 450 H.0.
2. Polaris Sportsman 570
3. Polaris Sportsman 850
4. Polaris Sportsman XP 1000 Ultimate Trail
Polaris ATV Cost:
When it comes to Polaris ATV prices, they vary depending on the model and features. Prices for their youth models start at around $3,000, while their Polaris RZR Turbo special edition cost upwards of $30,000. Utility ATVs, such as the Sportsman XP 1000, are typically priced in the mid-range, with prices starting at around $10,000.
3. ODES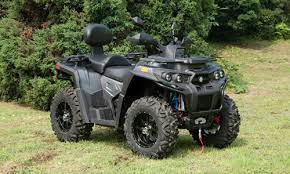 ODES is a leading manufacturer of all-terrain vehicles (ATVs), established in 2011. They are renowned for producing high-quality ATVs and UTVs that are durable and exceptional performance, making them a popular choice for adventure enthusiasts and off-road riders.
One of the reasons ODES has gained such popularity is due to their commitment to customer satisfaction. They have a reputation for providing excellent customer service and support.
ODES offers a wide range of ATV models, each with its own unique set of features and capabilities. One of their most popular models is the ODES Ravager, which is designed for riders who want a high-performance ATV that can handle rough terrain and extreme conditions.
The Ravager features a powerful engine, advanced suspension system, and rugged construction that can take on anything from steep hills to muddy trails.
Another popular model is the ODES Dominator X2, a two-seater ATV that offers exceptional comfort and handling. The Dominator X2 comes equipped with a powerful engine, advanced suspension, and a spacious cabin that can comfortably seat two riders. This ATV is ideal for long rides and can handle a wide range of terrain and conditions.
Top ODES ATV'S Models:
1. ODES Saber
2. ODES Ravager
3. ODES X-F-3
 ODES ATV Cost:
ODES ATVs are available at a range of price points, depending on the model and features you choose. The entry-level models start at around $4,000, while the high-end models can cost upwards of $15,000.
Conclusion for Best American ATV Brands:
The American ATV industry is home to some of the world's top-rated ATV brands. Each brand has its unique features and specifications, catering to the different needs and preferences of ATV enthusiasts. However, when it comes to the best American ATV brands, you don't have many options, but you can get a high-quality and reliable American-made ATV.
Ultimately, the best American ATV brand for you depends on your specific needs, budget, and preferences. By doing a thorough research and comparing different brands, you can find an ATV that suits your requirements and provides you with the best experience. Overall, the American ATV industry continues to thrive, and its top brands are leading the way in innovation, durability, and performance.